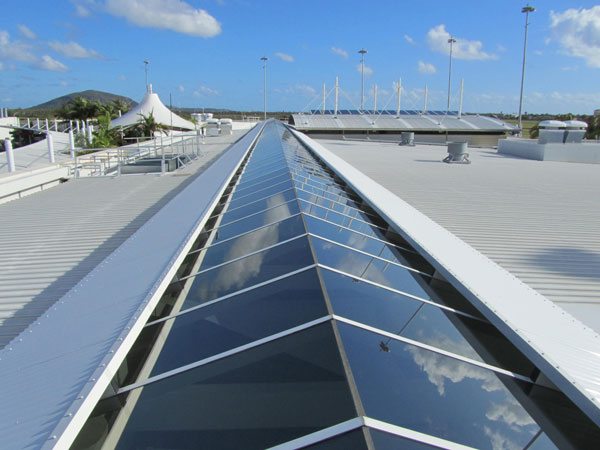 Here at Bones Plumbing and Roofing, we've earned our great reputation over the past 40 years for our extensive experience and expertise in the supply and installation of both residential and commercial roofing on the Sunshine Coast.
We specialise in a broad range of industrial roofing services and have experience with many types of roofing from custom-designed tiles to commercial metal roofing. With an excellent team of qualified and safety driven industrial roofing contractors, we are skilled in undertaking repairs, existing roof replacements, and new commercial roofing projects.
Our services include common repairs to roof and gutters, roof audits, and roof leak detection, as well as make safe repairs following storm or water damage. We also undertake maintenance projects such as roof painting and cleaning.
In addition to roofing repair and maintenance, our team can carry out complete re-roofing on larger commercial roofing systems. We can complete commerial roofing repairs and installation to: 
Unit and townhouse complexes
High rise apartments and office buildings
Shopping centres 
Schools and daycare centres
Community centres and buildings
Warehouse and industrial buildings.
Some examples of our recent work include:
Design and installation of custom frame and roof covering the glass atrium for the Sunshine Coast Airport upgrade
Removal of air-conditioning units, roof sheeting and flashing, and re-roofing with Zincalume roofing products at the Noosa Homemaker Centre
Roof leak investigation and repair across various Sunshine Coast Council locations.
 You can see examples of our work, and some of our recent projects here.
As one of the longest standing commercial roofing companies on the Sunshine Coast, we pride ourselves on providing excellent service and consistent high-quality commercial roofing systems on every project we undertake. Bones Plumbing and Roofing have commercial roofing contractors who can assist you in your next industrial roofing project, where no job is too big or too small.
Browse our complete list of services here, or contact us to arrange a quote and times estimate for your commercial roofing project.